The Department of Labor is skeptical of Fidelity's Bitcoin 401(k)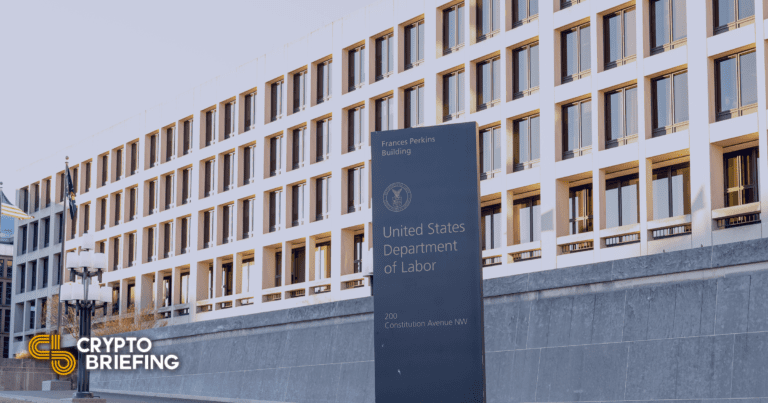 Key points to remember
The deputy secretary of the U.S. Department of Labor's Employee Benefits Security Administration noted his agency's primary concerns with Fidelity allowing bitcoin into its company-sponsored 401(k) retirement accounts.
Mr. Khawar warned of the speculative nature of Bitcoin and its regulatory risk.
In March, the Department of Labor cited volatility, among other concerns, as a reason for its apprehension over the use of Bitcoin for retirement savings.
A senior official with the Department of Labor agency responsible for regulating and overseeing companies in their management of employee retirement accounts has expressed concerns about Bitcoin's inclusion in Fidelity's 401(k) retirement services, which are used by approximately 23,000 companies. The main concern cited was the speculative nature of Bitcoin and its corresponding lack of regulatory clarity.
Department of Labor warns US citizens
Acting Assistant Secretary of the Employee Benefits Security Administration Ali Khawar noted his agency's grave concern that Fidelity is allowing its businesses to use its 401(k) service to include Bitcoin in retirement accounts of their employees.
In an interview with The Wall Street Journal, Khawar called cryptocurrency a speculative asset class, where hype and potentially empty promises about the future are rife. In contrast, he characterized retirement as a very serious matter:
"For the average American, the need for retirement savings in old age is significant. We're not talking about millionaires and billionaires who have a ton of other assets to tap into.
In addition to the perceived speculative risks, Khawar said the lack of consumer protections currently afforded to crypto investors also calls into question its suitability as a savings vehicle in a retirement fund.
Deputy Secretary Khawar said he and other members of his agency will shed light on their concerns with the Fidelity folks at an upcoming meeting. Another prominent figure from the Employee Benefits Security Administration cited the fact that by using Fidelity's services, companies could allow employees to take up to 20% Bitcoin.
Despite the Labor Department's March guidance, in which it raised concerns about Bitcoin's inclusion in pension plans due to its volatility, custody risks, regulatory risks, valuation risks, etc., Fidelity announced on April 26 that it would allow companies to use its 401(k) retirement services to allow employees to take up to 20% stake in bitcoin, although employers can still choose to not allow it. 401(k) retirement plans allow for tax-deferred retirement savings, and often employers will match a portion of their employees' contributions. In 2020, Fidelity accounted for about a third of company-sponsored retirement accounts in the United States. In other words, Fidelity was responsible for about $2.4 trillion in 401(k) assets.
Mr. Khawar was given a day's notice before Fidelity announced its intention to allow companies that use its 401(k) retirement services to allow bitcoin incorporation.
Fidelity responded to the Department of Labor's concerns, noting the growth in demand for exposure to digital assets across various investor demographics, as well as forecasting a bright future for the asset class.
Disclosure: At the time of writing this article, the author of this article owned BTC, ETH, and several other cryptocurrencies.